Each post is edited and fact-checked by industry experts to ensure that we are providing accurate information for our readers.
See our full editorial guidelines.
What Is the Cheapest Type of House to Build? Alternative Homes and Building Materials
Last Updated: July 17, 2023
Our advice is based on experience in the mortgage industry and we are dedicated to helping you achieve your goal of owning a home. We may receive compensation from partner banks when you view mortgage rates listed on our website.
The cheapest type of house to build is a rectangular tiny home — though your location, materials, and more can impact costs. $287,466 is the average cost of new home construction in the U.S. according to HomeAdvisor.
No matter how small your home is, building in a city with a high cost of living means land and taxes will cost more than in affordable areas like Arkansas. A complex home design or costly materials like lumber and limestone increase your building expenses.
| | |
| --- | --- |
| Buying a Home | Building a Home |
| Average Cost | Average Cost |
| $285,000 | $287,466 |
| Cheapest Price (State) | Cheapest Price (State) |
| $147,800 (Iowa) | $167,213 (Tenn.) |
| Avg. Time Until Move-in | Avg. Time Until Move-in |
| 5+ Months | 7+ Months |
Making an offer on a pre-existing home is typically more affordable than building a home.
New construction may be more affordable if you find a great deal on land or build in a competitive market. Otherwise, customization and few up-front renovation costs are the best benefits to building your own home.
Here are the cheapest types of houses to build:
1. Ranch Homes
Average cost to build: $150 per square foot
Average cost to buy: $159,900
Ranch homes are the most popular home style in the U.S. They're another rectangular-shaped house, though they come in "T" or "L" shapes, too. A home with a simple and concise layout is the cheapest type of house to build.
Ranch homes are typically single-story structures with attached garages. They're easy to find construction plans for and highly customizable, so you can find a home that fits your needs and budget. If you choose to purchase a ranch home, they come in a variety of sizes and shapes for options that fit any budget.
Get pre-approved to start your home buying journey.
2. Colonial Homes
Average cost to build: $300 per square foot
Average cost to buy: $172,961
Colonial homes are common around the East Coast and are symmetrical, rectangular-shaped houses. Their simple design is more affordable to build than complex or asymmetrical houses.
Colonial homes have evolved over time and modern styles are often used for mansions. It can be hard to find affordable colonial homes ready to buy, so if you plan on building, sticking to a simple layout and small size keeps construction affordable. They're also easy to find plans for and can be built up rather than out, so you can save on foundation costs.
Get pre-approved to start your home buying journey.
3. Tiny Homes
Average cost to build: $97,500
Average cost to buy: $45,400
Tiny homes have grown in popularity over the last decade as an affordable and sustainable house style. Tiny houses are less than 400 square feet and are typically square or rectangular in shape. The simple design and small space reduce the materials needed, keeping construction affordable.
Tiny homes can be bought and are often built since they're not very common. It can be difficult to secure a mortgage for alternative homes like these depending on how rare they are in your area, so be prepared to purchase with cash.
Get pre-approved for a tiny home.
4. Shipping Container Homes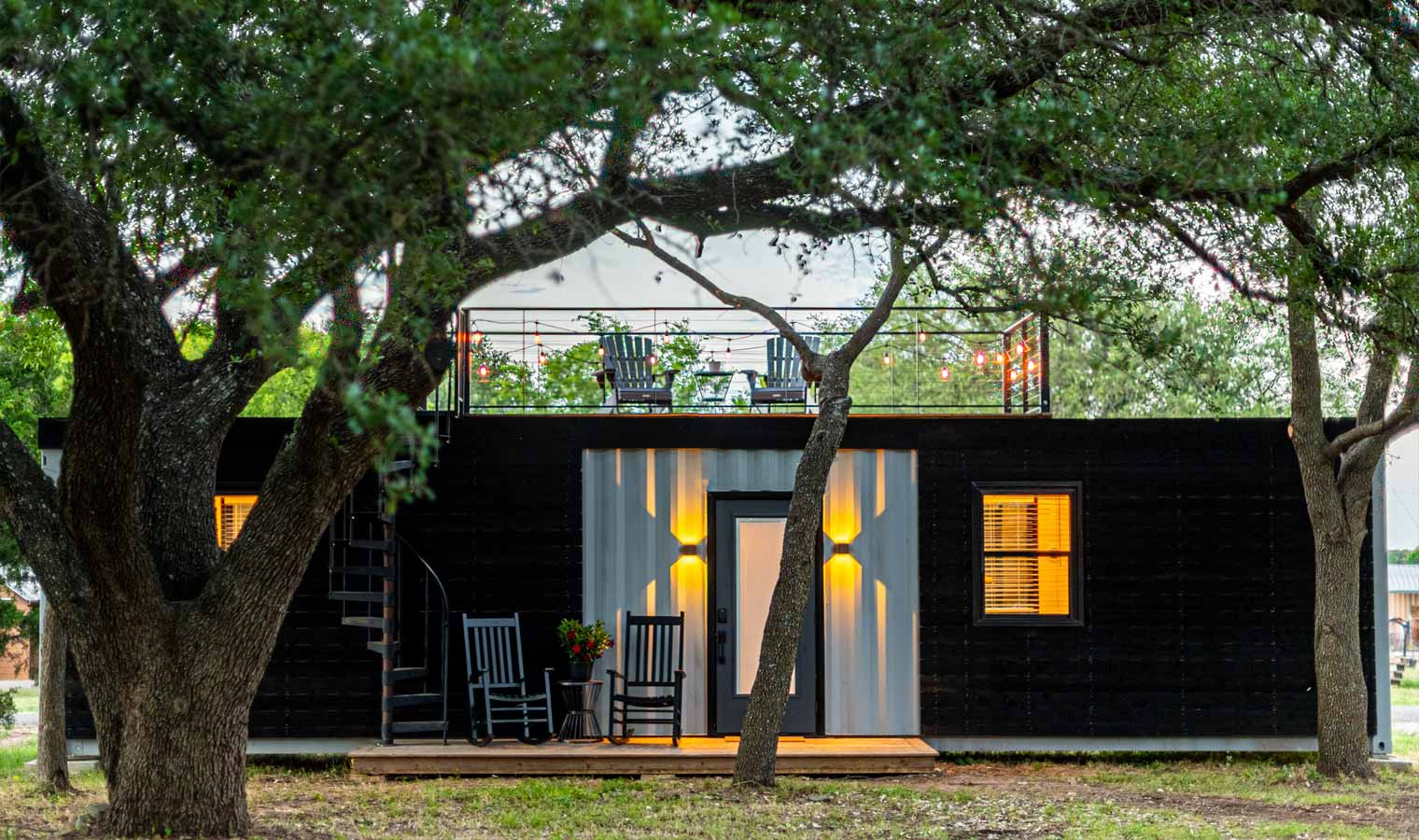 Average cost to build: $16,500-$44,500
Average cost to buy: $32,000-$61,000
Shipping container homes are built around the structure of a retired shipping container so you save time and money on framing. Shipping containers can be used for tiny homes, or combined with other containers for the construction of a larger house.
Shipping containers generally come in two sizes — 20 feet by 8 feet (160 square feet), or 40 feet by 8 feet (320 square feet).
Container homes are only legal in select states, including:
Alaska
California
Colorado
Florida
Georgia
Louisiana
Minnesota
Missouri
New York
North Carolina
Oregon
Pennsylvania
Tennessee
Texas
Washington, D.C.
Like tiny homes, it may be difficult to get a mortgage for container homes. Research your local area and save up some cash if you plan to build one.
Get pre-approved for a container home.
6. Cob Construction Homes
Average cost to build: $7,000
Average cost to buy: $499,900
Cob is a clay mixture that has been used around the world for centuries. Cob can form the walls and foundation of a home. Homeowners usually build their own cob houses, so prepare for manual labor. Cob homes are not common and aren't readily available to buy in the U.S.
Cob construction is sturdy, sustainable, and small with a unique look. Cob can be combined with other construction practices or materials to create a modern home, or used for smaller projects like sheds and garden walls.
Cob homes are not typical in most areas and may be difficult to secure a mortgage for, much like tiny homes and shipping container homes. Most home buyers finance their purchase and are more interested in the next three home types.
Get pre-approved for a cob construction home.
7. Prefabricated Homes
Average cost to build: $90-$120 per square foot
Average cost to buy: $100-$200 per square foot
Prefabricated homes are built off-site, transported to your property, and assembled on-site. You choose from your builder's selection of layouts and materials to customize the home. Building the home in panels off-site and restricting the build options makes prefabricated or modular homes affordable.
The home layout and upgrades are customizable, but these changes are costly. Prefabricated homes aren't cheap — just cheaper than an on-site build, so keep affordable style in mind. Prefabricated homes are quicker to construct than on-site builds and are generally more sustainable.
Get pre-approved for a prefabricated home.
Cheapest Materials to Build a House
Your house style and size determine the amount of materials you need to buy, which is the core of a home's expense. There are plenty of cheap building materials and alternatives to consider to cut costs.
1. Prefabricated panel
Prefabricated panels are built off-site and shipped to you, ready for assembly. You or your contractor can order prefabricated wall panels, framing, floor joists, and roof trusses based on your preferred house style and layout, or layouts offered by the prefabrication company.
Prefabricated panels can be made of wood, steel, or concrete. You can also opt to add finishes, paint, or features like fireproofing depending on your panel supplier's services.
2. Concrete sheets
Concrete sheets are a specific type of prefabricated panel. They're just as easy to install and save time and money from labor costs, on-site framing and pouring, and help to avoid weather delays. Concrete is an affordable option that's secure, fireproof, insulating, and weatherproof.
3. Shipping containers
Retired shipping containers are an affordable and sustainable option for setting the base structure of your home. A single container is great for tiny home living. You can also assemble multiple containers or build off of a single container for a larger space.
4. Reclaimed wood
Reclaimed wood is more affordable than fresh lumber and keeps wood out of landfills. You may find it for free through online Buy Nothing groups or construction sites — just be sure to ask permission to pick up discarded wood.
Using reclaimed wood as paneling or anywhere it's visible gives your home a unique look with a mix of grains and colors. You can also refinish reclaimed wood to match your aesthetic.
5. Bamboo
Bamboo is a durable lumber alternative that grows quicker than trees, so it's sustainable. It's versatile and can be used for framing, roofing, flooring, and fencing. Some bamboo species are also considered lucky plants for your home.
There's a variety of bamboo species, and the harvest time impacts its durability. Research the bamboo that fits your construction needs and providers before you buy.
6. Brick
Brick is an affordable building material that can be bought new, recycled from old construction, or even made at home. You can find salvaged brick through online marketplaces, Buy Nothing groups, and construction or demolition sites.
Brick installation is time-consuming, so you may pay more in labor. If you're willing and experienced enough to lay your own brick or know a good contractor, this can still be an affordable option for your house.
7. Cob
Cob is a mixture of clay, sand, straw, and water that you can make at home. It can be formed around a simple frame, built up on its own, or made into bricks for construction. It's a good insulator and a sturdy building material that has been used for centuries.
Cob may not fit your lifestyle needs and is best for tiny homes. You can use it in addition to other construction methods or to build a shed or landscaping structures. Check local laws if you plan to build a cob home to ensure it's permitted in your city and state.
8. Recycled bottles
Recycled bottles can be used as a construction alternative that's popular for sustainability or aesthetics. Ecobricks are plastic bottles stuffed with plastic waste to create durable bricks that reduce pollution. They can technically be used to build a house, but they're better suited for small structures like gardens, sheds, or even furniture.
Glass bottles can also be trimmed to remove the neck and secured in adobe, cob, or concrete. You can place the cut ends of the bottles together and leave the bottom ends uncovered for a stained glass effect.
Cheapest Way to Build a House
If you have the experience and know-how, then constructing your own home is the cheapest way to build a house. Follow pre-created design plans or work with an architect to ensure your home layout works. Also consider hiring subcontractors for electrical, plumbing, or other areas where you lack experience. It's cheaper to do it right the first time than to pay to fix mistakes later.
If you decide to hire a home builder, spend the extra money to hire an experienced contractor. An experienced builder also serves as a consultant to give you design and savings tips. They'll also be able to spot potential problems early on so you can avoid the cost of mistakes made by inexperience.
The more you prepare up-front, the better your building experience will be. Create an accurate budget, get all necessary permits early, and ensure your construction plans are feasible and within your budget.
Building a House vs. Buying
Building or buying your home is up to you and your needs, but there are important factors to consider for cost and lifestyle.
Is it cheaper to build or buy a house?
It's typically cheaper to buy an existing home than to build a new one. Location and personal preferences have an impact, too. HomeAdvisor reports the average cost to buy a home is $285,000, while building a home average $287,466 and can cost up to $150,000 more than buying.
If you live in a competitive market, it may make more sense to build a home than compete with other buyers. New construction may also be a better option if you have a lot of specific needs for your home that would require expensive renovations in an existing house.
Get started with the home buying process by getting pre-approved.
Can you build a small house for $50K?
Technically yes, you can build a house for $50,000, but it won't be easy. A simple tiny house or repurposed shipping container makes building a home for under $50,000 achievable. However, you need land to build on to begin construction, which can be much more expensive. You also need to pay for all building permits, which can cost up to $3,000.
What is the most expensive part of building a house?
High lumber costs make framing the most expensive part of home construction. Your actual property is also costly and varies significantly by location. Land may be more expensive than the entire home construction in high-cost areas.
Buying a home is more convenient
Buying a pre-existing home is quicker than building a new house, especially if you consider weather delays, construction complications, or the potential to go over budget. You can also tour an existing home to find the right look and feel.
New construction is based on your design, so it's highly customizable. The finished product and quality vary — your finished house may be everything you dreamed of, or it might need some improvements.
New construction is easier to customize
New construction allows you to collaborate with an architect to design your dream home and customize everything from kitchen cabinets to closet space. You have the option to renovate a pre-existing home, but a house's structure may limit your creativity. New construction is ideal if you have specific ideas about what you want in your house.
Building a new home can be an affordable option in high-competition housing markets. It can seem expensive at first, but alternative homes and building materials help keep you within your budget. It's often more sustainable and allows you to personalize your home. Research to decide if buying or building is right for you, and learn more about first-time home buyer payment options.
New technology also makes new home construction smarter than ever. Check out these innovations that can cut the cost of construction and add modern features to your home.
Mortgage
Pre-Approval
in Minutes